This post contains affiliate links and I will be compensated if you make a purchase after clicking on my links
Introduction
In the modern age, tech isn't just for humans. Our feline companions too have a slice of the innovation pie, especially when it comes to staying fit and fab. Among the feline fitness gadgets, the cat exercise wheel has become a pawpular choice for indoor cats needing that extra bit of exercise. Not only does it serve as a great source of physical stimulation, but it's also a fun way for your cat to unleash their inner cheetah.
However, it's no secret that cat exercise wheels are bulky gadgets, and depending on your location, getting your paws on one could be a little tricky. Worry not, as we have scoured the market far and wide to bring you detailed reviews of the best cat exercise wheels, highlighting the top picks along with guidance on where to buy the best cat exercise wheel for your country.
Whether you are on a lookout for affordable cat exercise options or willing to splurge a bit for added features, we have something for every tech-savvy cat enthusiast out there.
However, if the thought of selecting the perfect cat exercise wheel for your feline friend has you spinning in circles, worry not. We've crafted a thoughtful guide on how to choose the right cat exercise wheel, ensuring you sidestep the mishap of rolling home with the wrong wheel.
The Best Cat Exercise Wheels
Curl up, get comfy, and let's sprint through the best cat exercise wheels of this year, starting with the most budget-conscious options and clawing our way up to the high-tech, premium picks for the ultimate feline fitness aficionados.
1. Athlecat: Best Overall Cat Exercise Wheel
For the cat parent who wants a blend of style and function, the AthleCat Cat Wheel is a purr-fect addition to your modern home which available in light oak and black. Not only are these wheels aesthetically pleasing, but they're also crafted from high-grade wood, ensuring durability and a touch of sophistication. The pre-installed design promises ease of assembly, and the low sound feature means your cat can exercise without creating a ruckus.
Key Features of the Athlecat Wheel
✔️
Whisper-Quiet Bearings:
Engineered with precision, the Athlecat Wheel ensures a smooth, silent roll that won't interfere with your peace and quiet, perfect for nocturnal feline escapades.
✔️
Stability Plus:
With its robust build and balanced design, the Athlecat Wheel remains stable, giving your agile kitty a secure place to exercise.
✔️
Easy Assembly:
Your time is precious, and the Athlecat Wheel respects that with a design that snaps together in moments, getting your cat in the fast lane quickly.
✔️
Superior Materials:
Crafted from premium wood, the Athlecat Wheel combines durability with eco-friendly style, making it a sleek addition to any cat tech enthusiast's home.
✔️
Enhanced Foot Protection:
Our wheel features a gapless contour between the running track and base, offering a safer trot for your cat's delicate paws, thus preventing unwanted slips or nips.
Pros
Stylish Design Choices: With light oak and black options, it's easy to match your home's aesthetic.
High-Quality Materials: Made from 100% solid wood for sturdiness and longevity.
Silent Operation: Engineered for minimal noise to keep your household peaceful.
Complete Package: Comes with a toy and a training guide to encourage your cat's use of the wheel.
Safety First: Tested by a quality team to ensure 100% cat safety and built with a strong, reliable base.
Cons
Limited Availability: Unfortunately, shipping is restricted to the US.
Initial Cost: Some might find the upfront cost a bit high
Maintenance: The wheel requires regular tightening of nails, which can become loose over time. Keep an eye out for these small parts to ensure they don't become playthings for your feline
Final Verdict
The AthleCat is a robust solution for pet owners looking to invest in their cat's well-being. While it's disappointing that it's only available in the US, the $25 discount offered for newsletter subscribers is a sweet deal. If you're in the market for a cat wheel that combines elegance with silent functionality, the AthleCat is worth every penny. Get ready to turn your cat into an "Athlecat", and enjoy the peace of mind that comes with prioritizing your pet's safety and health.
2. Homegroove: Best Budget-Friendly Cat Exercise Wheel (Large Cats)
Introducing the Homegroove Cat Running Wheel, this wheel is a playground for your cat to stretch its legs, chase an endless horizon, and stay active, all within the cozy confines of your home. Its silent operation ensures your peace remains undisturbed while your furry companion embarks on midnight marathons. Plus, its generous dimensions make it a great fit for larger cats, all without breaking the bank.
Key Features of Home Groove
✔️
Silent Design:
The Homegroove Cat Running Wheel features an upgraded TPE silent roller that ensures quiet operation even during the late-night feline frolics. Your cat can enjoy a spin on the wheel without disturbing your slumber.
✔️
Built-in Security Lock:
Safety comes first with a built-in locking device to control your cat's playtime. This feature is especially useful when you're not at home to supervise your pet, preventing any accidents in your absence.
✔️
Foot Safety Upgrade:
The design takes into account the petite paws with an upgrade that narrows the gap between the base and the running wheel, preventing any pinching of your cat's feet as they hop on and off the wheel.
✔️
Sturdy, Durable Construction:
Constructed with solid wood, this cat wheel boasts of sturdiness that can hold a maximum weight of 110 pounds. A widened base further enhances stability, ensuring a safe exercise platform for your cat.
✔️
Spacious Dimensions:
With dimensions of 100x90x34.5cm, this cat wheel provides ample space for larger cats to run comfortably, ensuring they can stretch out and sprint to their heart's content.
Pros
Budget-friendly price point.
Good for any cat breeds: Spacious enough for any size cats – especially larger cats.
Multiple Sizes Available – Even XL in certain countries such as Canada.
Cons
Assembly Complications: Assembly instructions could be clearer.
Not so straight forward parts: Extra parts might increase confusion during assembly.
Final Verdict on Homegroove Wheel
The Homegroove Cat Running Wheel emerges as a silent, safe, and spacious playground for your indoor cat. Its features are thoughtfully designed to provide a fun and secure exercise outlet for your feline friend, particularly appealing to larger cats.
The budget-friendly price tag is the cherry on top, making it an attractive option for cat parents. While the assembly might test your patience a bit due to unclear instructions, the end product is well worth the effort, promising hours of entertainment and exercise for your cat.
For an in-depth look at how this wheel stands up in the world of feline fitness, don't miss our detailed Homegroove Cat Exercise Wheel Review.
3. Hrokz Smart Wheel Treadmill: Best for the Tech-Savvy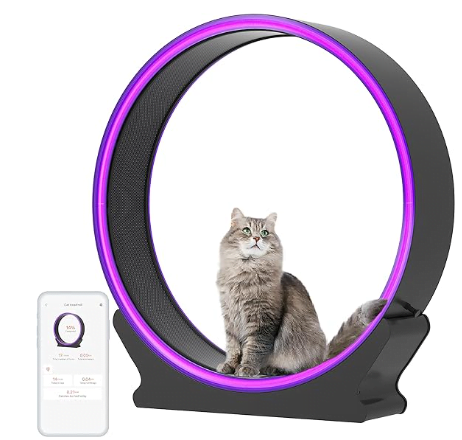 The Hrokz Smart Cat Exercise Wheel Treadmill is a modern solution designed to address the common health and psychological issues associated with indoor cats. This wheel goes beyond the basic exercise solution by integrating smart technology to monitor and enhance your cat's fitness regime.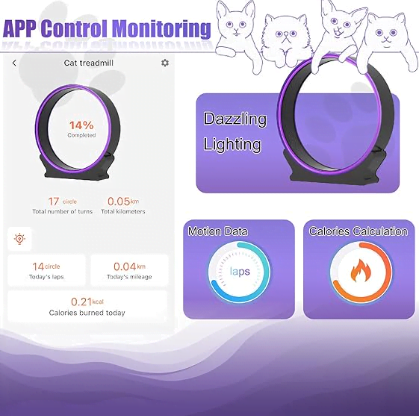 Key Features of Hrokz Smart Wheel
✔️
Smart LED Indoor Cat Wheel:
Featuring advanced dual-sided LED lights, this cat wheel adds a high-tech touch to your pet's exercise routine. The LED lights not only provide a visually stimulating experience for your cat but also signal a modern aesthetic in pet care equipment.
✔️
Mobile App Integration:
The Hrokz Smart Cat Wheel comes with a mobile app that syncs to your smartphone, allowing you to monitor your cat's exercise data in real-time. From tracking the distance covered to calories burned, this feature helps you set and achieve fitness goals for your cat.
✔️
Robust Construction:
Built with durable ABS plastic material, known for its eco-friendliness and smooth surface, this wheel guarantees stability and safety for your pet while running.
✔️
Low Noise Operation:
Equipped with 8 TPE pulleys with steel ball bearings, the wheel operates quietly, ensuring it doesn't disrupt your household.
✔️
Safety Lock Pin:
An additional safety feature, the lock pin helps secure the wheel when needed, enhancing its safety and stability.
✔️
Compact Design:
With dimensions of 40″ x 11″ x 42″, and a 40″ diameter running wheel, it's a suitable choice for cats of all sizes.
Pros
Real-time monitoring of your cat's exercise: data helps in maintaining a healthy and active lifestyle for your pet.
Smart LED lights provide a fun and engaging experience for your cat.
The ABS plastic construction ensures durability and stability, reducing the risk of tipping or breakage.
Cons
The smart features come with a higher price tag compared to basic cat wheels, which might not be within everyone's budget.
Smart Phone App is Basic: Smart phone app doesn't have a lot of features.
Final Verdict on Hrokz Smart Cat Wheel
The Hrokz Smart Cat Exercise Wheel Treadmill is a leap towards modern, tech-integrated pet care. Its smart features allow for a more monitored and effective exercise routine for your cat, making it easier to maintain your pet's health.
Although it's on the pricier side, the technological advancements and the quality of materials used justify the cost. This wheel is an excellent investment for pet owners who are keen on providing the best care for their feline companions, ensuring they stay active, healthy, and entertained.
4. Penn-Plax Spin Kitty: Best Budget-Friendly Cat Exercise Wheel for Small Cats
If you're on the prowl for an affordable cat exercise solution, the Penn-Plax Spin Kitty Cat Wheel could be the purrfect match for your kitty. This, sturdy wheel promises to keep your feline friend engaged and active, all while offering a fun scratcher to help keep those claws in check.
Key Features of Penn-Plax Spin
✔️
Size:
With a wheel diameter of 29.5 inches.
✔️
Material:
The solid wood frame coupled with sisal and carpet lining makes it a durable choice.
✔️
Ease of Assembly:
It's quite easy to assemble for instant feline entertainment.
✔️
Multi-Functional:
It's not just a running wheel, but also a scratching paradise for your kitty.
✔️
Free-Standing Design:
No need to mount it on a wall, it stands firmly on its own.
Pros
Dual Functionality: Your cat gets to enjoy a running spree and a scratching session all in one place.
Easy Assembly: You won't have to wrestle with complicated instructions to get this wheel up and running.
Durable Construction: The solid wood frame is designed to withstand the test of time (and claws!).
Cons
Size Limitation: This wheel may not be the best fit for larger cats, as some find it too small to run comfortably.
Balance Issues: Some users noted that the wheel tends to be off balance, affecting the smoothness of rotations.
Final Verdict Of Penn-Plax Spin
The Penn-Plax Spin Kitty Cat Wheel is a commendable choice if you're seeking cat exercise wheel options that won't break the bank. However, it may be more suited for small (maybe medium) sized cats. If your feline is on the larger side, you might want to explore other listings in this article or jump straight to the best cat exercise wheels for large cats.
With its budget-friendly tag and multi-purpose functionality, it's a worthy consideration for those looking to introduce their furry companions to the world of indoor cat fitness without splurging a fortune.
Best Cat Exercise Wheels UK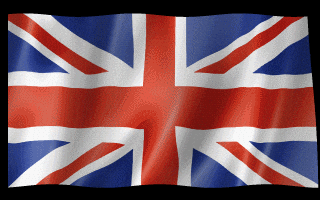 Taking our cat wheel quest global, we're now zooming in on the UK!
Knowing these wheels can be a bit bulky, finding them locally in the UK makes purr-fect sense for convenience and savings. We've curated a list of top-notch cat exercise wheels right in your backyard.
Got a spot in mind we should check out? Tell us! Your suggestions are the catnip to our quest, helping us serve cat parents worldwide. And don't worry, our UK selections uphold the same high standards we're known for.
Check out our findings to keep your kitty nimble and intrigued: Best Cat Exercise Wheels UK.
Homegroove Cat Exercise Wheel (UK)
Already making rounds in the British market, the Homegroove Cat Exercise Wheel stands as a sturdy and reliable choice for UK cat owners. As we mentioned earlier, this wheel is not just a hit; it's a durable joyride for your furry friends.
Cazami Cat Wheels UK
The Cazami Cat Exercise Wheel, a UK distributor of the globally acclaimed Ferris Cat Wheel, featured in our Best Cat Wheels for Large Cats list.
The Cazami wheel, a bit of a splurge, blends premium quality with elegant design. It's a quiet, safe, and stylish choice that adds a touch of luxury to your home while keeping your cat active and happy.
Looking for the scoop on the Cazami Cat Exercise Wheel, also known as the Ferris Cat Wheel? Roll on over to our Ferris Cat wheel review for all the insights and info you need.
Wrapping Up the Quest for the Best Cat Exercise Wheels
As we meander to the end of our insightful exploration of the Best Cat Exercise Wheels, it's apparent that the spectrum of options is as vast as our feline friends' personalities.
From budget-friendly choices like the Homegroove wheel to the tech-savvy Hrokz Smart Cat Exercise Wheel Treadmill, and not forgetting the opulent allure of the Cazami Cat Exercise Wheel, there's a unique wheel to get every kitty's paws moving.
The essence of investing in a cat exercise wheel transcends the physical realm, delving into the emotional and psychological well-being of our beloved feline companions. It's about curating an environment where they can thrive, explore, and maintain their inherent zest for life.
Whether you're in the US or the UK, we've traversed the market to bring you options that resonate with varied preferences and financial plans. And as we expand our horizons into different territories, we're driven by the desire to assist you in finding the perfect wheel close to your abode, mitigating the hassle of dealing with bulky international shipments.
Exploring Alternatives to Cat Exercise Wheels
While the allure of cat exercise wheels is undeniable, they may not resonate with every feline temperament or fit into every living space. If you find that a cat exercise wheel isn't the right fit for you or your furry friend, fret not. There's a realm of alternative solutions to explore that can equally contribute to your cat's physical and mental stimulation.
From interactive toys to climbing structures and laser toys, the possibilities are boundless. Dive into a curated list of great alternatives to cat exercise wheels to find the purrfect match that suits both your and your cat's preferences.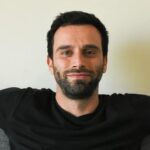 Meet Sean, a fintech whiz with a penchant for pet purrs and blockchain buzz. After a decade of fintech feats, Sean's tech talents leaped from ledger lines to litter lines, driven by a passion for pets and a vision for a more connected pet care community. With three critter companions as co-pilots, Sean launched this blog to share a treasury of pet-friendly tech tips and tales.